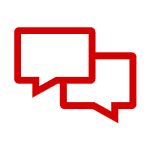 Engage Customers with Business Texting
---
SimplyConnect is a comprehensive cloud messaging solution that lets you send and receive SMS and MMS messages from your business phone numbers, including traditional landlines. Use existing business phone numbers, or obtain new numbers, to connect with customers. Sign into your portal from any browser or download the application to your iOS or Android phone. Text-Enable Current Numbers or Use your existing business phone number to contact customers via SMS and MMS messages. Manage Contacts and Schedule Messages Save customer contact information in a searchable database and schedule recurring messages.
Engage Customers
Text promotions, track responses and ROI, and utilize customizable templates to make texts more personable.
Support Global Messaging

Enjoy seamless texting across multiple languages communicating with native speakers.
Set Auto-Responses

Automatically respond to customers 24 hours a day with customized and suggested text responses.
Resolve Customer Issues

Maintain records and history of customer interactions for issue resolution or new opportunities.
Monitor Messages

Oversee all texts sent and received by your business from one account and receive email notification of unread messages.
Ensure Compliance

Send text messages that adhere to CTIA, telecom industry organization that defines messaging Best Practices and guidelines.