Outsourced Information Technology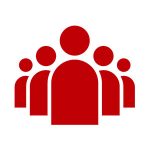 End-to-End Information Technology Solutions.
---
Many of our customers count on us for complete, worry-free, end-to-end solutions. As trusted partners, we listen to our clients, and we quickly take the right steps to fulfill their technology needs based on their business layout.
We promise to provide the latest and most secure technologies while observing the highest standards of professional integrity at all times.
Contact Netcom for all your technical solutions. We are authorized sellers of only major technology brands and we are a Dell Premier provider. We are here to help you.
---
5 Reasons Why IT Outsourcing and Cloud Services Works Best for Business
IT outsourcing - Security. Support. Expertise. Strategy.
Information Technology (IT) is a major support function for any business. Companies that invest in outsourced IT services achieve significant benefits that help them operate more efficiently and effectively.
Reduced Spending with IT Outsourcing, Colocation and Cloud Storage
The main driver of IT outsourcing for many companies is reduced spending. It doesn't take much to realize these savings. Both capital and operating expenses can be reduced. You do not need to purchase computer hardware and dedicate expensive square footage to develop a data center. You do not have the expenses of hiring employees to perform IT functions such as application development to hardware installations to end user support can be outsourced. Along with reduced payroll comes reduced expenses for training and benefits. Outsourcing also makes costs predictable, with contracts specifying fixed monthly charges.
Increased Focus on Core Business
For most companies, IT is a support function, not a core competency. Outsourced IT services offer 24/7 support and guaranteed service level agreements that go beyond what your internal operations team could provide, letting you get more work done with fewer operational issues.
Access to Experts and the Latest Technology
Because IT is the vendor's core competency, they make sure their employees are trained and certified in the technologies they support. The IT services vendor has a team of experts in multiple IT technologies; you can draw on the vendor's team for advice that helps you make the right technology decisions. You get access to the latest technology and support from a team that is expert in deploying it effectively. The IT provider will make sure systems are patched and upgraded on an appropriate schedule.
Reduced Risk and Increased Flexibility
Technology is expensive, and making wrong decisions is costly. An IT services provider has a solid base of experience that assists with making the right technical decisions. Outsourced IT services reduce the risk of data loss. IT outsourcing providers ensure that data centers have appropriate defenses, such as firewalls and security information and event monitoring software. IT services also reduces the risk of disruption from downtime. Vendors build resilient facilities with redundant devices, minimizing the risk of downtime with robust backup and recovery procedures reducing the all risks in the event of a device failure. IT services provider can rapidly bring additional services and storage online.
Increased Employee Morale
Poorly implemented outsourcing can lead to unhappy employees who worry about the security of their own jobs, but handled properly, outsourcing can actually increase your employees' morale. Offloading IT work lets your employees focus on the jobs they were hired to do and not venture into tasks they are not an expert at, thus they become more satisfied with their work and less likely to burn out and leave.
Managed properly, working with outsourced IT services frees a business to focus on developing itself. Always get local references and be sure to perform the due diligence of follow up. Always be sure to have scheduled "state of the union" meetings to keep all aspects of your agreement on track with reports and forecasts.
Netcom is a premier outsourcing partner for the SMB market
---
For more information, email info@netcomcloud.com or Contact Us.