Server & Desktop In The Cloud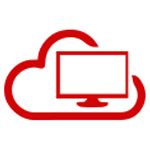 A cloud server offers advantages such as infinite scalability, as well as unbeatable availability and performance.
---
Key Points:
Server set-up in just a few minutes

Instant scaling up or down as required

99.95% uptime guaranteed

No hardware maintenance

Low total cost of ownership (TCO)

Simple backup and monitoring
---
Netcom cloud servers can be provisioned and configured quickly to suit your changing requirements. The server capacity can be increased or decreased in minutes. Hardware components such as CPU, RAM, disk storage, load balancers, firewalls and much more, can be added or taken away instantly.
Cloud servers offer extraordinarily high reliability and availability compared to traditional computing infrastructures. A cloud server releases you from having to worry about the management and maintenance of computing hardware. It gives you complete control over your hardware configuration, with the ability to add servers or communications hardware (such as load balancers and firewalls) and achieve immediate and unlimited scaling.
Netcom Cloud Servers give you absolute freedom to configure, scale up or down and add new components as required:
Assign roles to administrators or users
Root/administrator access to your servers
Instant server configuration changes
Add and remove servers as and when required
Choose your IP allocation
Complete control over subnet and private VLAN (Virtual Local Area Network)
Unlimited storage
---
For more information, email info@netcomcloud.com or Contact Us.